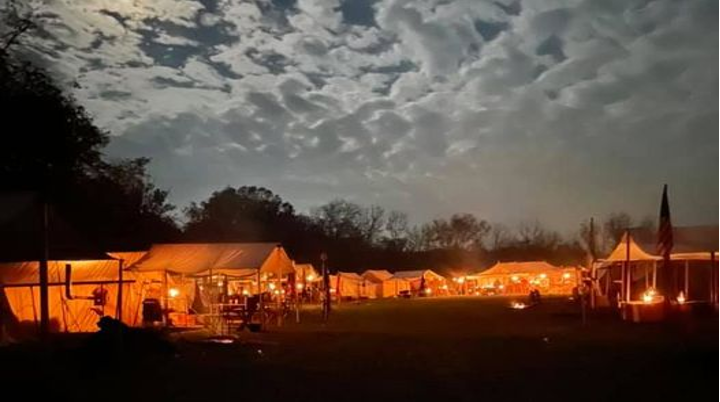 We are hosting the next Territorial Rendezvous October 19-22, 2023 at Camp Wilderness! This is going to be an amazing event with friends from all over the Riflemen Territory. As the host chapter we want to make this an event to remember for years to come. 
Wilderness Candidates need to submit their applications to their Chapter Wilderness Representative no later than 17Augin order to meet all of the National FCF requirements. Once your application is received, your Chapter Wilderness Rep will notify the Territorial Representative (This email address is being protected from spambots. You need JavaScript enabled to view it.) of your intent to attend Wilderness testing at Territorial Rendezvous, will scan and forward a copy of your application to the Territorial Representative, and will provide the candidate with their Wilderness pouch.  You will receive a letter of instruction from the Territorial Rep or Territorial Wilderness Rep, but you need to begin now working on your Wilderness Workbook. The Application and Workbook are attached.
The fee for Wilderness testing and Vigil is $30.  The check can be mailed to the Territorial Rep (10047 Torino Drive SE, Huntsville, AL 35803) or submitted as a PayPal payment to the email above.
Wilderness Candidates and Sponsors need to be prepared to begin Wilderness Vigil proceedings at Noon on Thursday, 19 Oct, at the Territorial Representative's tent.  Bring everything you will need for testing.  You will not be allowed to go back to your camp without a penalty.
If you have questions please reach out.
God Bless, 
HighLand Spirit
256-698-1730
Kevin "Candle Stick" Church, President (Contact)
Marcus "Guarding Wolf" Smith, Vice President (Contact)
Darrell "Yellow Hair" Smith, Scribe (Contact)
Weekly Devotional if you would like it please Subscribe
Territorial Rendezvous October 19-22, 2023 at Camp Wilderness